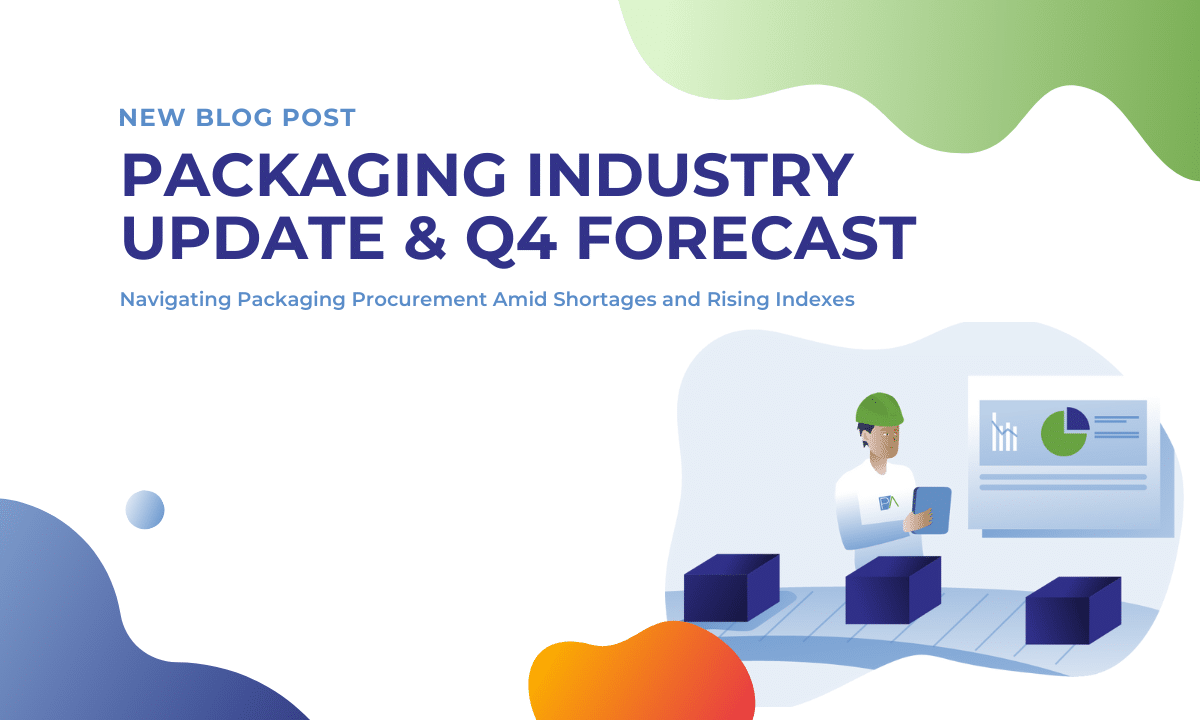 July 16th, 2021
That unassuming brown box is increasingly worth as much as the items it transports.
Packaging – whether corrugated or plastic – has increased in price at a relentless pace since mid-year 2020.

Now with multiple pressures compounding the packaging industry the market is in a prolonged squeeze.
From raw material shortages to manufacturers running at full capacity yet unable to keep up with demand, corrugated and plastic-based packaging are no longer overlooked commodities.
As vehicles for companies' goods and services, sufficient packaging supply is critical.

Without packaging, business transactions come to a grinding halt.
Corrugated Packaging – Supply Chain Landscape
Over the past 12 months, the corrugated market has felt the supply chain pressure from every side.
Throughout 2020, COVID-related business closures pushed consumers to dramatically increase online purchasing.

Whereas shoppers historically purchased unique items online, COVID pushed consumers to ship basic household products to their front door.
Shampoo bottles that at one time shipped to retail stores in large, corrugated cases were being individually delivered in smaller boxes directly to end consumers.

This shift in consumer behavior drove a significant increase in total corrugate usage.
As retail locations reopened, the supply chain contracted again due to combined pressures of elevated online purchasing and retail businesses restocking.
Despite retail businesses reopening, online purchasing behavior remains elevated with no signs of receding.

George Staphos, a senior analyst covering paper and packaging for Bank of America Securities told the Washington Post:
"At some point, yes, there was some pantry loading as people were preparing for what the effect might be of the pandemic, but I think we're past that point and what we're seeing here is new consumer behavior. Once you establish a new pattern, it's really hard for it to change."

– George Staphos, Bank of America Securities
Reflecting current market conditions, the major corrugated index Pulp and Paper Weekly (PPW) increased 15.3% over the last 12 months while manufacturers increased their pricing by 20%+ in some cases.
Q4 Industry Forecast for Corrugated Packaging
Many of the major corrugated manufacturers including IP, WestRock, PCA, and Pratt are running their plants at full capacity to keep up with demand.
However, lead times continue to push out to 2-4 weeks and even 6 weeks for many first runs.
In many cases, demand is outstripping capacity by a 2:1 factor.
Heading into Q4, demand for corrugated packaging will likely increase as online purchasing and retail stocking for the holiday season place dual pressure on the market's supply chain.
Plastic / Poly-Based Packaging
Like corrugated, polymer-based packaging pricing drastically increased over the last 12 months.
When the corrugated market ran hot, companies turned to poly-based packaging, driving an unexpected surge in demand.
Because they are a preferred alternative to corrugated, polybags experienced the greatest increase in demand and pricing.
LLDPE is one of the most common resin feedstocks for packaging. Since June of 2020, pricing for LLDPE shot up by 123%.
While this extreme price inflation can be attributed to COVID-related e-Commerce trends, freezing temperatures during the 2021 winter season severely impacted Texas-based resin manufacturers.
As a petroleum-based product, poly-based packaging was also subject to the pricing fluctuations and recent supply chain shortages impacting end consumers of oil and gas.
Q4 Industry Forecast for Plastic & Poly-based Packaging
Poly-based packaging faces strong headwinds in the coming months.
The situation is dire enough that Flexible Packaging Europe (FPE) released a statement on June 25th warning of continuing raw material availability issues.
Without enough supply of flexible packaging, the global supply chain faces potential risks to a stable supply of food, pharmaceutical, and medical products.

During its summer meeting, FPE members rated the current availability of raw materials as "bad" or "very bad."
There is light at the end of the tunnel.

Guido Aufdemkamp, FPE's executive director suggested that once the global surge in reopening and recovery levels out to a typical growth pattern, raw material availability should stabilize.
Navigating Packaging Procurement In Today's Market
In the corrugated market, most manufacturers are pulling back from the traditional bidding-on-business approach via Request for Pricing (RFP) exercises.

This change makes it increasingly difficult for buyers to drive much needed savings.
That said, there are steps you can take to navigate today's packaging market and drive savings.
1. Delay or defer sourcing events
Sourcing events are difficult to solicit engagement from suppliers in today's market; an engagement will likely not see the same savings your company is accustomed to.

Even when business is awarded, transition times are extended compared to historical trends, specifically first-run lead times (historically 1-2 weeks, now running 4-6 weeks among some suppliers).
But, if you must engage in a sourcing event, take these steps:
Partner with an expert.
When you choose to engage in a sourcing event, incorporate an industry expert to help you navigate the current landscape.

Plan ahead.
Give yourself ample time to run a sourcing event. Suppliers will walk away if you try to rush them.

Develop a targeted approach.
Focus on working with a smaller number of suppliers that closely fit your needs.

Dive into understanding the current packaging landscape to identify opportunities for much needed savings.

Get familiar with your contract.
When starting a new relationship in this environment, focusing on the correct contracting terms is critical.

Ensure that all SKU pricing is controlled with a price escalation / de-escalation. This will prevent unwarranted "margin grabs" within a contract.

Lay out your quality terms in detail, as tight production schedules often lead to missteps in quality and late deliveries.

Consider including stocking agreements and the right to refuse out of spec product for a supplier credit.
2. Pursue packaging optimization programs to reduce costs.
Any packaging optimization program follows a structured process.
To run a successful packaging optimization project:
Engage or partner with an independent packaging engineer.
Suppliers will sometimes offer a packaging engineer as support for your project but engaging with an independent engineer removes all bias.

Scope out the appropriate internal resources and assign owners.
Often, issues arise if you don't have the resources or support necessary dedicated to the project's success.

Walk in with clear objectives.
Develop a project plan with defined milestones, key deliverables, and projected value driven.
3. Compare your pricing with competitive industry prices.
Often, companies employ cost modeling to determine the overall quality of their pricing. This can be achieved through Should Cost Modeling or Comparative Cost Analysis.
Should Cost Modeling requires an immense amount of industry knowledge about packaging material construction.

You take everything that goes into your packaging material and break it down into individual units, including raw materials cost, manufacturing cost, labor rates, overhead, and fair markup for profit.
Comparative Cost Analysis requires a massive dataset to run the exercise on your packaging pricing.

You break SKU-level pricing down to base-level units that allow you to directly compare items that differ in size, usage, and other specifications.

As an example, by breaking corrugated pricing down to dollars per thousand square feet ($/MSF), you can directly compare the pricing of a 12" x 12" x 12" box to an 8" x 8" x 8" box. These numbers can then be compared to market pricing to understand their overall competitiveness.
To run a comparative cost analysis:
Gather required data.
Most companies don't have internal access to all data points required for comparison, so partnering with a packaging engineering firm or consultancy can provide you with the data you need. This data will provide competitive market price points for comparison.
Reduce current SKU pricing down to "base level pricing units."
Using base level pricing units will help you understand how your pricing is currently structured.

Compare your current base level pricing to market base level pricing.
This comparison helps you determine the overall quality of your current pricing.

Negotiate with current suppliers on items noticeably higher than market pricing.
This enables you to drive savings and avoid a full sourcing event.

How Can the PA Packaging Team Help?
While the current market may not be ideal to conduct a sourcing event, PA offers other resources to drive savings in your packaging category.
Packaging Optimization Programs Through Value Analysis / Value Engineering.
Our team of degreed packaging engineers offer expertise across a broad range of material. PA is uniquely positioned to drive savings outside of the procurement process.

Our engineers follow a four-phase process of Discovery, Development, Testing, and Implementation to analyze your current packaging process and to provide cost savings recommendations.

These include projects such as SKU Consolidation, Process Automation, and Packaging Redesign.
Cost Modeling. 
With our suite of analytical tools and our wealth of industry data, PA can review the cost structure of your current packaging items and provide feedback on whether you are within competitive price range.

This allows you to negotiate with current suppliers on a finite level and drive savings on key SKUs rather than conducting a full packaging procurement overhaul. 

Targeted Sourcing.
PA's Packaging Sourcing Team Conducts 70+ sourcing events each year and therefore had a very deep knowledge of the market, as well as the supplier base.

After reviewing your packaging requirements we can put together an event that targets specific suppliers that we know have the capacity to service certain packaging materials.

From there we are able to leverage our supplier relationships to product results for our members.
To learn more about how our Packaging engineering process and suite of services can help your business, reach out to our team.