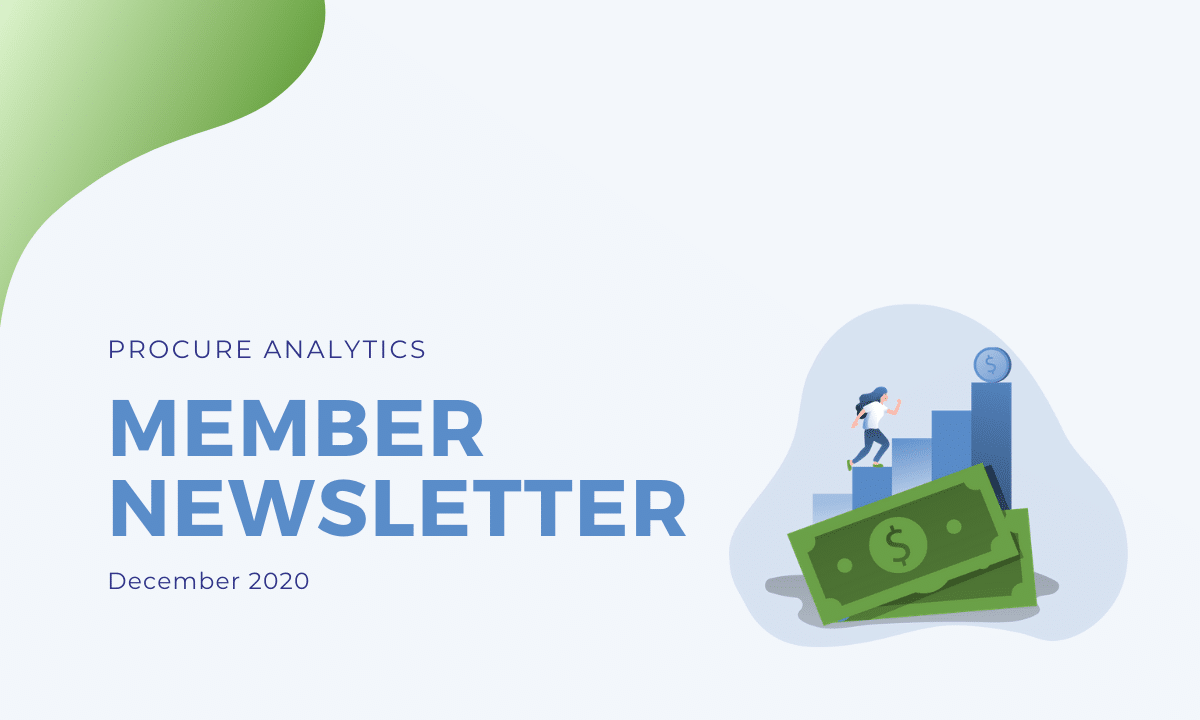 December 16th, 2020
Member Update – December 2020
This month, we celebrate the end of a very unconventional year and look forward to growing with you in 2021. If you need assistance over the holidays, please don't hesitate to reach out. We wish you a wonderful holiday season and look ahead with great hope for the new year.
Happy Holidays,
The PA Team
ON THE MOVE
News and insights from the PA team
We should stop overpaying for digital procurement solutions
An uncomfortable thought: Are procurement teams paying too much for their own digital solutions? Read this intriguing take on Spend Matters from Procure Analytics's own Suja Katarya and our friend Edmund Zagorin at Bid Ops.
PPE INDUSTRY NEWS
We continue to see supply constraints for nitrile gloves. Only a few plants in Malaysia produce most of the nitrile gloves for the global supply chain. We expect increased demand for these items as the vaccine reaches distribution stage. Fortunately, our COVID task force continues to scour the market for new supply sources. Reach out to us for PPE sourcing assistance.
DECEMBER ADDS
Each month we share the leverage our new additions offer the PA member family. Each new member brings tangible benefits as PA expands its industry-leading purchasing power and extends new Customer-Specific Pricing (CSP) to our membership.
SPEND GROWTH/LEVERAGE
$7MM+
New Member Annualized Spend
CSP ADDS
206 New Items
Deeply discounted SKUs
ADDED CSP SAVINGS
10.5%
Annual Projection