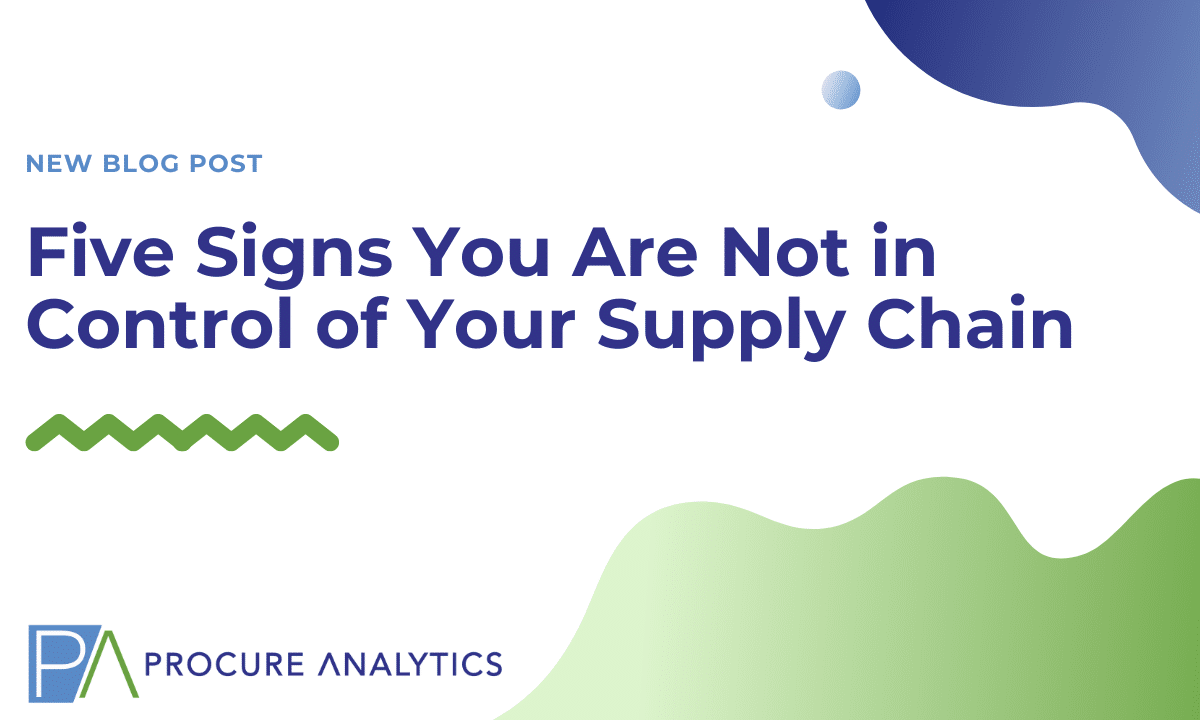 March 14th, 2023
There has never been a more challenging time to be a supply chain professional. In less than three years we managed to experience three decades worth of disruptions that exposed many organizations' strengths, weaknesses, and everything in between.
As supply chains continue to stabilize and the pendulum swings back from crisis management to optimization, the pressure is on for supply chain and procurement teams to deliver quantifiable value-add solutions. The following are key signs that you may have less control to drive changes than you think, and questions you can ask to gauge the robustness of your supply chain.
Limited Spend Visibility Across the Network
"You can't improve what you can't measure" is one of the most general truths in supply chain management, yet one of the most elusive in its practical application. You may have a good pulse on large areas of spend such as direct materials, and other commoditized categories where improvements are a game of inches due to their scale. What about everything else? How easy can you pull spend by category, supplier, location, manufacturer part number (the holy grail)? Do you trust the data being pulled? If you are spending more time cleaning your data than using it to make decisions, then it is time to assess the robustness of your supply chain. According to Zippia, only 6% of companies report full visibility on their supply chain.
Same Sourcing Process Across All Categories
All categories are not created equal and having the incorrect sourcing process for some categories can hurt your overall operations in the long term. In categories with a lot of one-time spend, oftentimes suppliers try to win business with a handful of loss leaders knowing that margins will be recovered in the areas of spend that are harder to track (another reason why spend visibility matters). It is usually a good idea to have sourcing processes flexible enough to allow you to keep a pulse on the market while reducing the amount of effort required to track compliance. If you treat all categories the same, chances are a lot of value will be left on the table.
Fragmented and Unleveraged Supplier Base
Driving a cohesive strategy becomes increasingly difficult in direct relation to how many suppliers play in a specific category. It is important to distinguish between having a resilient, well-leveraged supply chain with secondary supplier options, and a free-for-all supplier base where every node in your network is making independent decisions. The former can be built with enough flexibility to empower operators and still drive strategic initiatives, the latter puts suppliers squarely in control.  Creating strategic programs is a lot easier said than done, but you would be surprised at how much value can be extracted from supplier consolidation. It is also worth mentioning that in today's unpredictable world, strategic supplier relationships can be invaluable in times of need.
Few Resources to Drive Strategic Initiatives
Driving change within supply chains is challenging without the right resources and accountability systems in place. Conflicting priorities can make it difficult to implement changes: CFO wants to save money, plant manager does not want corporate mandates, corporate is pushing ESG initiatives, local buyer does not want to upset local supplier, and procurement/supply chain teams are expected to navigate through all this complexity. Successful projects require aligned stakeholders, resources to project manage and implement, robust reporting to track progress, and continuous monitoring to ensure compliance. The more of these you have at your disposal, the higher the chances of success.
Incomplete Feedback Loop
This sign is often overlooked under the premise that "no news is good news". Operators usually have the toughest jobs and the most real-time information about the health of your supply chain. Establishing a proper feedback loop can help eliminate friction between corporate initiatives and local needs. When something goes wrong with a process or system, it can be spotted immediately and addressed before too much damage is done. If your company does not have an effective feedback loop, it is very difficult to gauge if your supply chain is truly operating effectively. 


---
Most organizations experience a combination of these five challenges in varying degrees and eliminating them is not always realistic. Responding to changing market conditions is more important than ever and mitigating these five areas will significantly increase control over your supply chain.
At Procure Analytics, we are currently helping over 1,000+ member companies mitigate these risks by leveraging our scale and best-in-class data analytics, all at no cost. If you are curious about our programs and want to learn more about how we can help, we would love to hear from you.