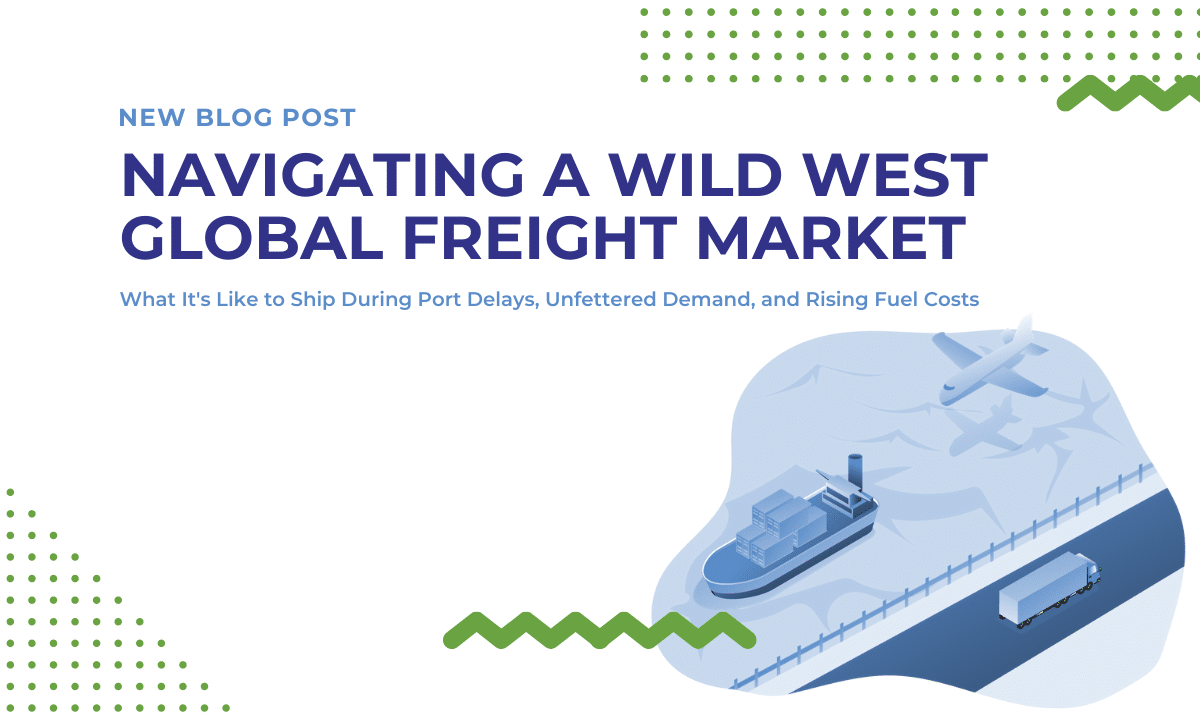 June 15th, 2021
It is a tough time to quickly ship products overseas. 
Supply shocks that began during the height of COVID-19 outbreaks in 2020 continue to generate a lasting ripple effect in the global supply chain.
What started with toilet paper now reverberates across B2B and B2C channels, impacting small businesses all the way up to Fortune 100 companies. On Friday, the New York Times reported that Starbucks is not only facing shortages in key ingredients to make their popular drinks, they are also running low on basic necessities such as cups, lids, and straws.  
Global Freight Market Squeezed by Unfettered Consumer Demand 
While the pandemic initially stifled global commerce, by the latter half of 2020, Americans started buying home goods and comfort products at a relentless pace. Weighted blankets, desks, lawnmowers, and air fryers inundated shipping containers in the ports of Asia.
By January 2021, no less than 25 cargo ships anchored off the ports of Southern California, waiting to unload. 
The drop in supply during COVID-19 lockdowns now leaves retailers scrambling to keep stock on shelves and in distribution houses.
Manufacturers face their own struggles meeting demand as they experience direct material shortages.  
Demand will remain high as we head into peak season during the summer. Retailers expect to stock seasonal inventory earlier than usual, leading to a sustained crunch in July and beyond. 
Ocean Freight Delays and Cost Increases 
This non-stop demand on ocean freight from Asia to the US continues to raise rates and stretch delivery dates of imported cargo. Rising fuel costs apply additional pressure to shipping rates. 
Asia-US East Coast shipping rates are 173% higher than the same period last year. 
According to Drewry's World Container Index, the average cost per 40ft container is $5,361, which is $3,423 higher than the five-year average of $1,937 per 40ft container.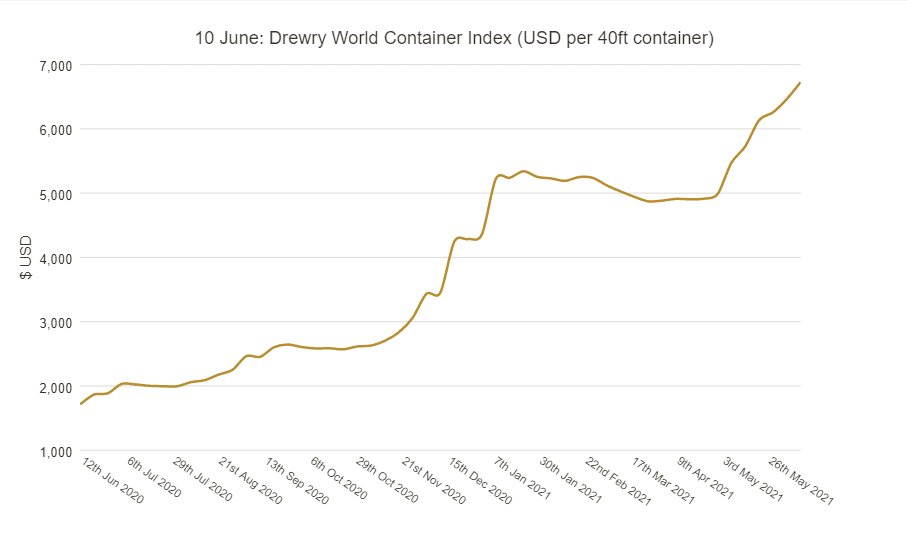 Global freight marketplace Freightos says that "an estimated 5.5% of all ocean capacity is currently waiting outside a port and storage space for finished goods waiting to be shipped is becoming scarce, exacerbating the already critical capacity crunch." On average, ships are waiting outside ports for up to 16 days before docking.
Companies Turning to Air Freight as Alternative 
With ongoing pandemic-related outbreaks, delays, and closures at ports, companies turn to express air freight for smaller shipments, increasing demand beyond 2021 forecasts. 
Industries familiar with transporting bulky or heavy items on cargo ships to reduce handling costs are shipping by air. "Tires are being shipped by airfreight," said David Goldberg, CEO of DHL Global Forwarding USA.
As rates rise, keeping freight costs low is an increasing challenge. Global air cargo volumes are back to pre-COVID levels and Asia-US rates climbed 25% throughout April and into May. While some carriers increased freighter fleet capacity, elevated fuel prices and demand forecasts will likely keep all transport rates elevated in the coming months. 
How to Navigate the Current Freight Market 
Despite these circumstances, there are steps shippers can take to navigate the current freight market: 
Determine which shipping method is optimal for you right now. Whereas ocean freight is generally cheaper, goods could be significantly delayed in ports. If you need a quick receipt, consider shipping by air. 
Factor in your profitability and freight budget. Given current conditions, shipping costs may include additional fees or delays. Creating a buffer in your transit time and budget will ease the strain on profitability. 
Develop a strong relationship with your freight partners, relying on their expertise to help you navigate current global freight conditions. Procure Analytics has a strong partnership with DHL for International Express Small Parcel. This program enables you to ship quickly via air freight at reduced rates. 
Freight is one of many indirect spend categories that are mission-critical and deserve robust strategies. Procure Analytics offers a suite of tailored category solutions to help you optimize cost while securing critical supplies and services with ease. To leverage our buying power and value-added services in express freight and other categories, reach out to our team or schedule a call for an introduction.